Take a trip back in time and experience
a traditional Japanese-style wedding ceremony on the famed Kintaikyo Bridge—
a bridge boasting a rich heritage spanning over 340 years.
Only one wedding will be conducted each day.

Spanning the Nishiki River, the Kintaikyo Bridge
with its five iconic arches is famous among Yamaguchi locals
for being "the bridge that stands against the rising waters."
Crossing the bridge has long been said to
"bring you happiness by overcoming five hardships."
Why not commemorate your special day by crossing the
Kintaikyo Bridge together and create your own unique and
special memory in the process?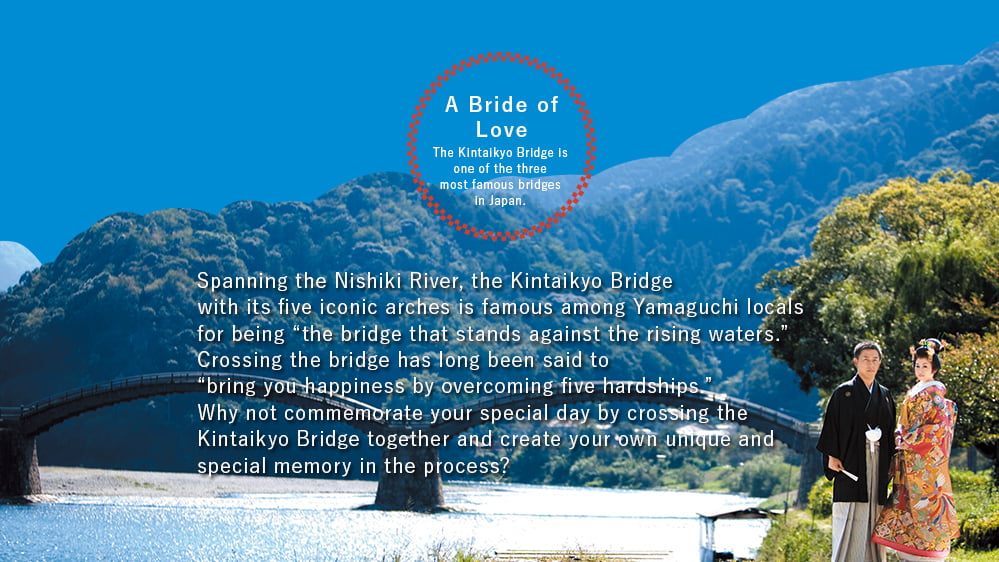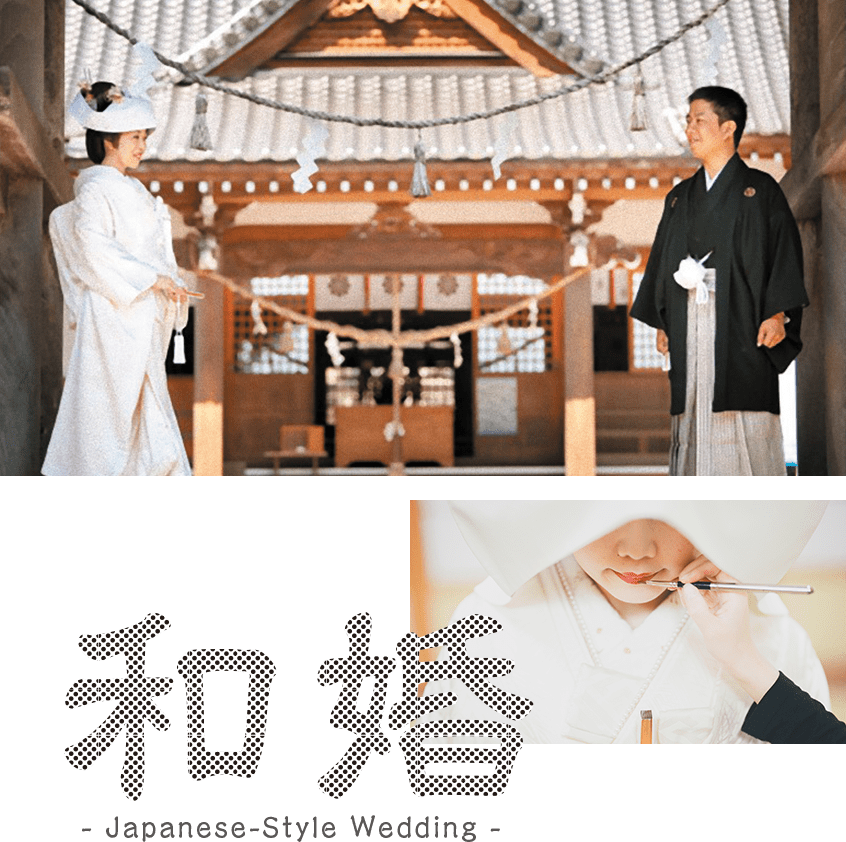 A reverential ceremony
will be conducted at a shrine
that emphasizes the beauty of
each of Japan's four seasons.
Traditional Japanese Shinto wedding ceremony.
The allure of a bride-to-be dressed in a majestic wedding kimono against
the backdrop of a holy shrine.
Feel the happiness of exchanging vows in front of your family.
Imagine gazing into each other's eyes after tying the knot.
Paint your own story on a canvas as pure white as the wedding kimono.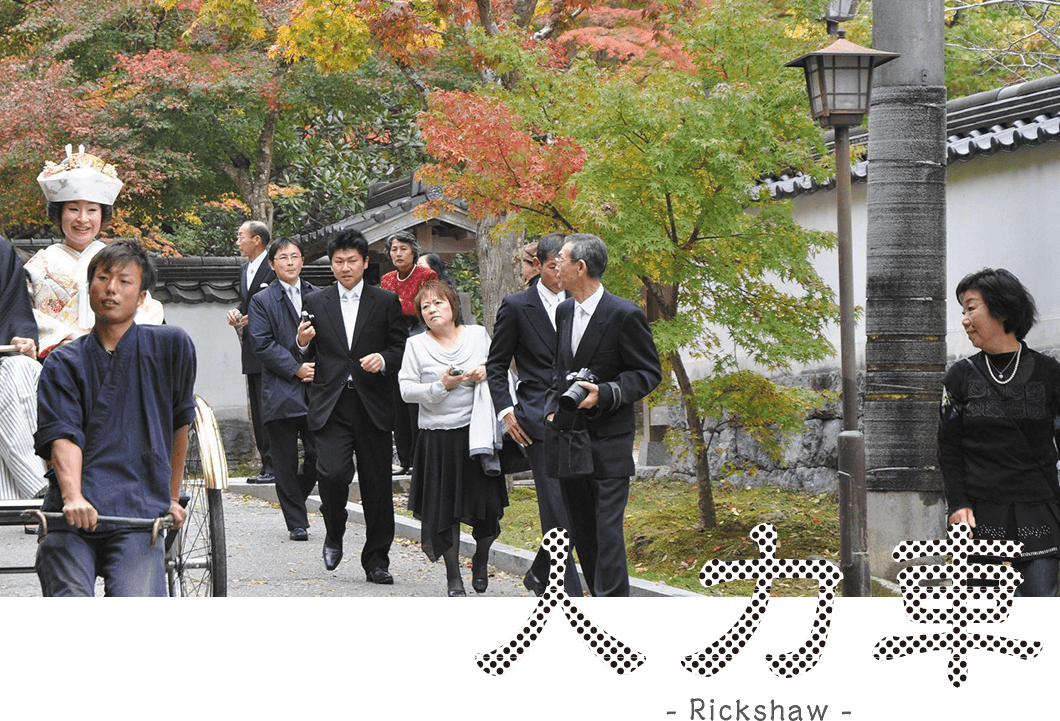 Nowhere else can you
have an experience
like Kintaikyo Bridge Wedding.
After a wedding at a shrine steeped in deep historical traditions,
enjoy a rickshaw ride followed by your wedding procession
around the castle grounds before culminating
in a bridge-crossing ceremony.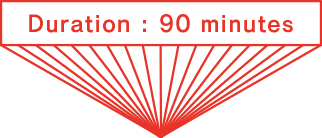 Iwakuni Kokusai Kankou Hotel presents
| Three Special Wedding Packages  |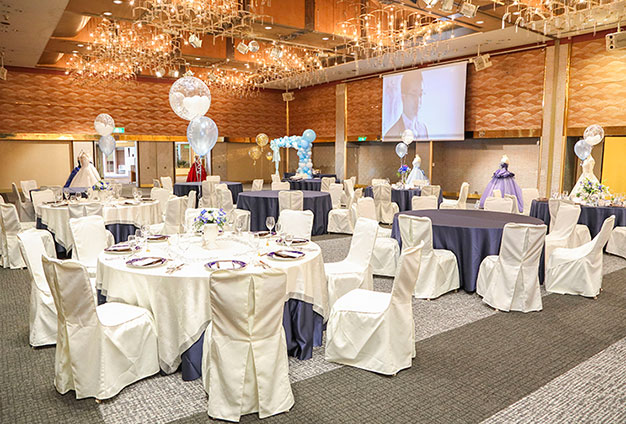 Venues
Royal Hall, Kinunkaku Cloud
Up to 300 people
1,400,000yen
(Tax included)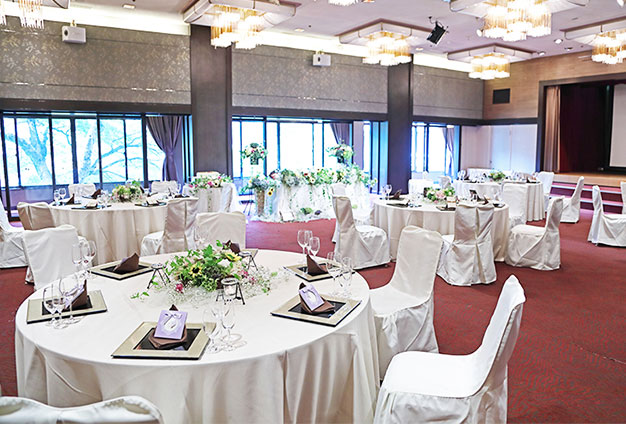 Venues
Kinunkaku Cloud, Kinryu Dragon
Up to 60 people
850,000yen
(Tax included)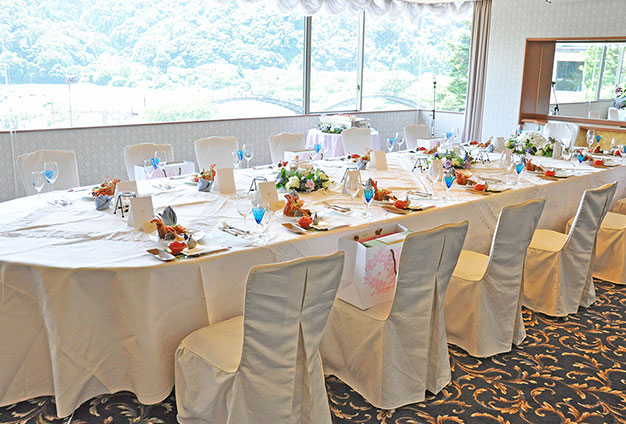 Venues
Orchid, Kinryu Dragon
About 5〜20 people
360,000yen
(Tax included)

| Each package includes:  |

■Course dinner (menus vary for each package)
■Free beverages: beer, wine (red & white), shochu distilled spirits (sweet potato, barley, rice), Japanese sake, whisky, soft drinks)
■Sparkling wine for a toast
■Table flowers
■Sound & lighting
■Venue fees
■Waiting rooms for relatives (one for each family)
■A shared changing room for the bride and groom
For each season we have made many other attractive plans available.
Please contact us for any information on other plans.
Wedding Ceremony, Banquet Rooms & Food
Wedding Ceremony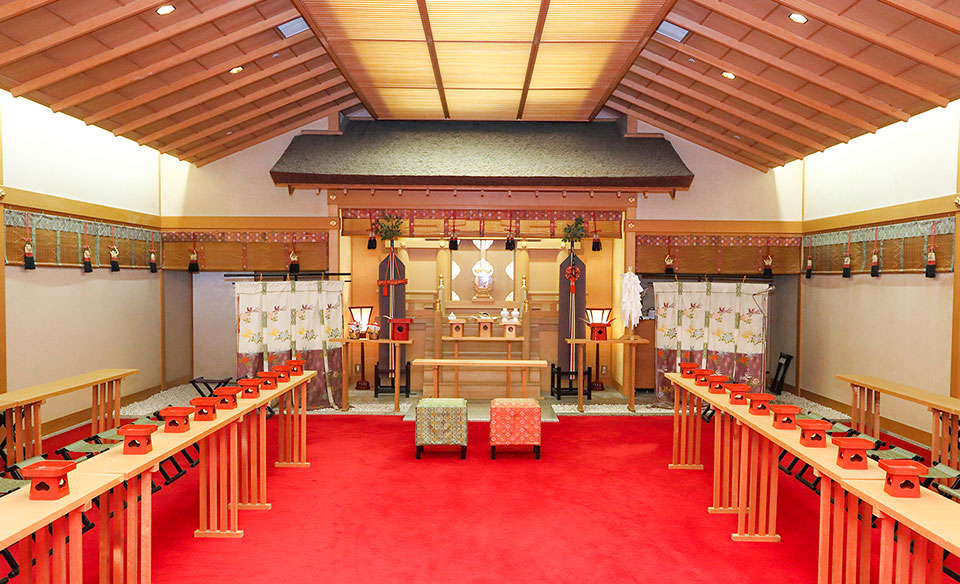 Japanese Shinto Wedding Ceremony.
[ Shiio Shrine ]
A reverential ceremony will be conducted by a Shinto priest officiant and maiden at Shiio Shrine inside the hotel. Experience a traditional Japanese-style wedding ceremony at this popular shrine.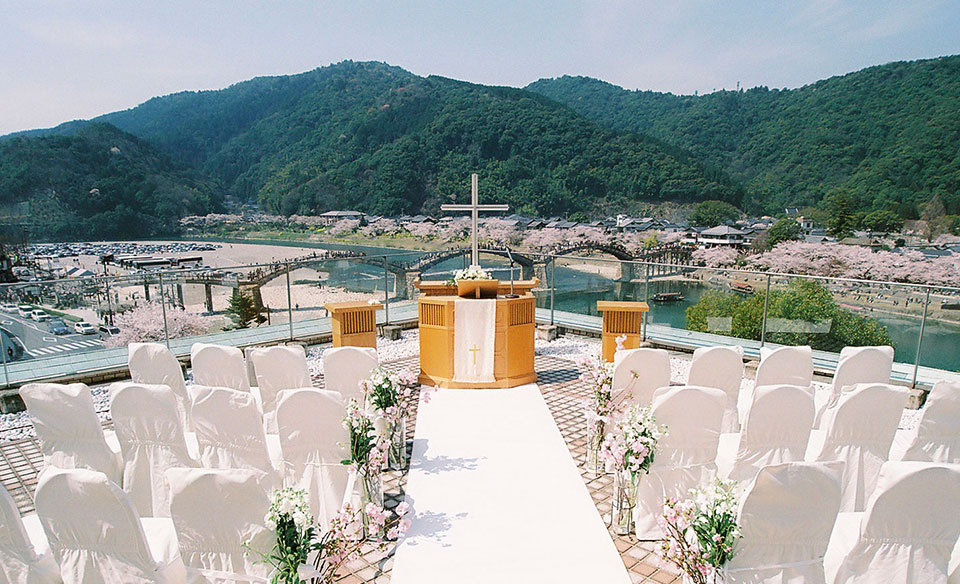 Christian Ceremony
[ 5F Rooftop Terrace ]
Take in the unique view of the famed Kintaikyo Bridge from our rooftop chapel. A great location for an outdoor wedding ceremony.

Numerous rooms with a view of the Kintaikyo Bridge
Waiting room for relatives
Tatami rooms (Chairs available)
Venues for a second party after the wedding
  (Hanaikada, 2F Dining Sakura BAR Time)
Accommodates small guest size, starting from 10 people
Rich variety in cuisines (Japanese-Western fusion, Chinese, etc.)
Wide variety of Japanese and Western clothing for rent
Accommodations & transportation by bus
[ Access ]
3 minutes on foot
from Kintaikyo Bridge
By JR

10 minutes by taxi from Shin-Iwakuni Station
on Sanyo Shinkansen Line
13 minutes by taxi from Iwakuni Station on Sanyo Line
By air

15 minutes by taxi from Iwakuni Kintaikyo Airport
By bus

2 minutes on foot from Kintaikyo Bus Center
By car

8 minutes by car from Iwakuni IC on Sanyo Expressway
Googlemap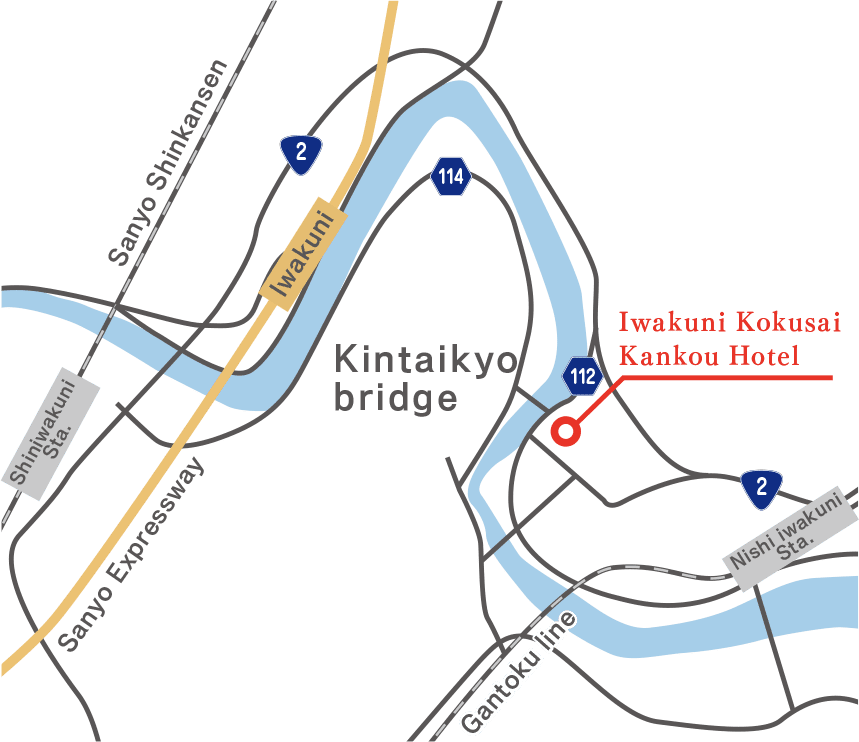 Contact & Inquiries
(Japanese only)
E-mail:bridal@iwakunikankohotel.co.jp
Royal Hall [ 4F ]
Celebrate your wedding in our main banquet hall,
a magnificent space lit by gorgeous chandeliers.
The room can be adjusted to two thirds, half, or a third of the original size to suit the number of guests.
Kinunkaku Cloud [ 4F ]
Enjoy a blissful moment immersed in our long-lasting history. Treat your guests to the beauty of Japan's four seasons accentuated by the Kintaikyo Bridge and the Nishiki River.
Kinryu Dragon [ 4F ]
Relish an elegant view of the Kintaikyo Bridge and enjoy a peaceful atmosphere with hospitality enriched by the beauty of each of Japan's four seasons.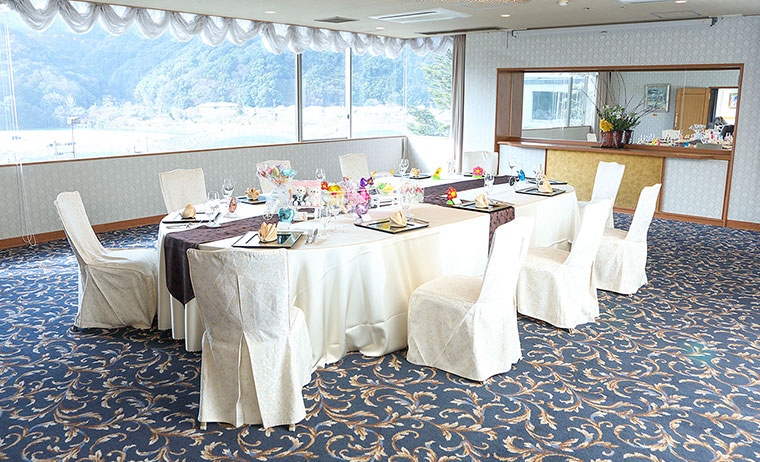 Orchid [ 4F ]
Boost your intimate wedding with genuine hospitality in this room with a view of the Kintaikyo Bridge. Enjoy our long-lasting dedication to culinary skills and great taste that date back to the specialties of Restaurant Fukagawa.