Take a trip back in time and experience
a traditional Japanese-style wedding ceremony on the famed Kintaikyo Bridge—
a bridge boasting a rich heritage spanning over 340 years.
Only one wedding will be conducted each day.


Details | The plan includes everything you'll need for the wedding ceremony.
■Contribution for Shinto priest officiant
■Rickshaw ride
■Kintaikyo bridge crossing fees (for up to 20 people)
■Wedding kimono for the groom
■Wedding kimono for the bride (including wig with kanzashi hair ornaments)
■Kimono dressing assistance
Your wedding planner will guide you throughout the experience.
Options
Let us help your
precious memory to last

■Photography (a set of two 8-by-10-inch photos)
 …15,000 yen (Plus tax)
■Snapshots (digital data) …70,000 yen (Plus tax)
■Video recording (to DVD) …From 90,000 yen (Plus tax)

Spanning the Nishiki River, the Kintaikyo Bridge
with its five iconic arches is famous among Yamaguchi locals
for being "the bridge that stands against the rising waters."
Crossing the bridge has long been said to
"bring you happiness by overcoming five hardships."
Why not commemorate your special day by crossing the
Kintaikyo Bridge together and create your own unique and
special memory in the process?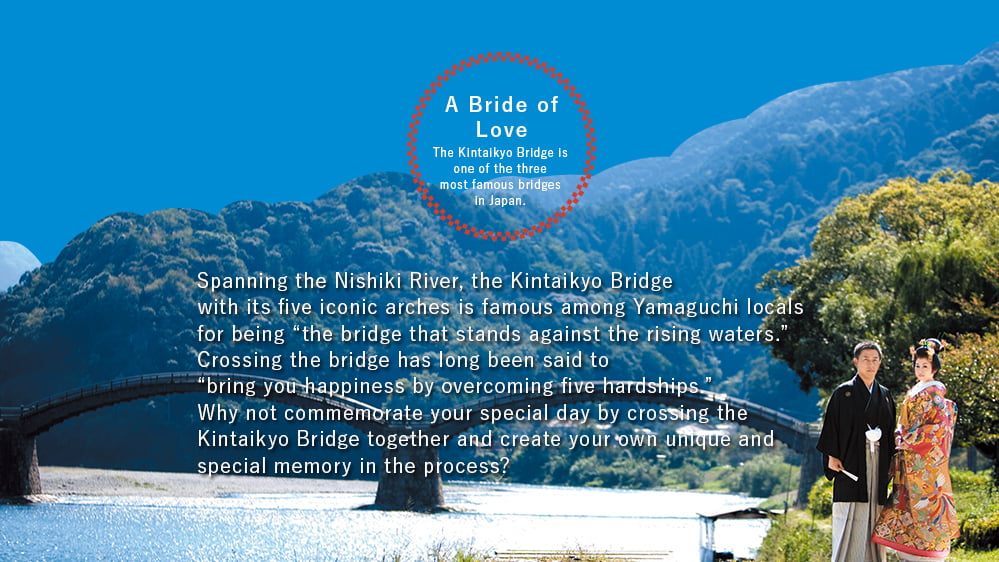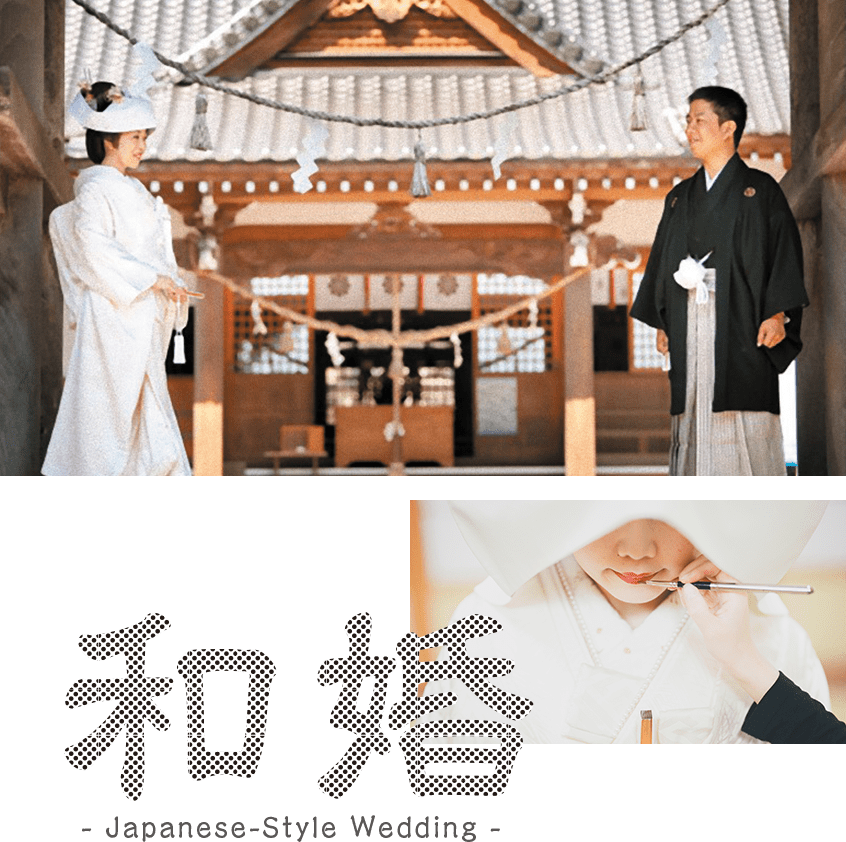 A reverential ceremony
will be conducted at a shrine
that emphasizes the beauty of
each of Japan's four seasons.
Traditional Japanese Shinto wedding ceremony.
The allure of a bride-to-be dressed in a majestic wedding kimono against
the backdrop of a holy shrine.
Feel the happiness of exchanging vows in front of your family.
Imagine gazing into each other's eyes after tying the knot.
Paint your own story on a canvas as pure white as the wedding kimono.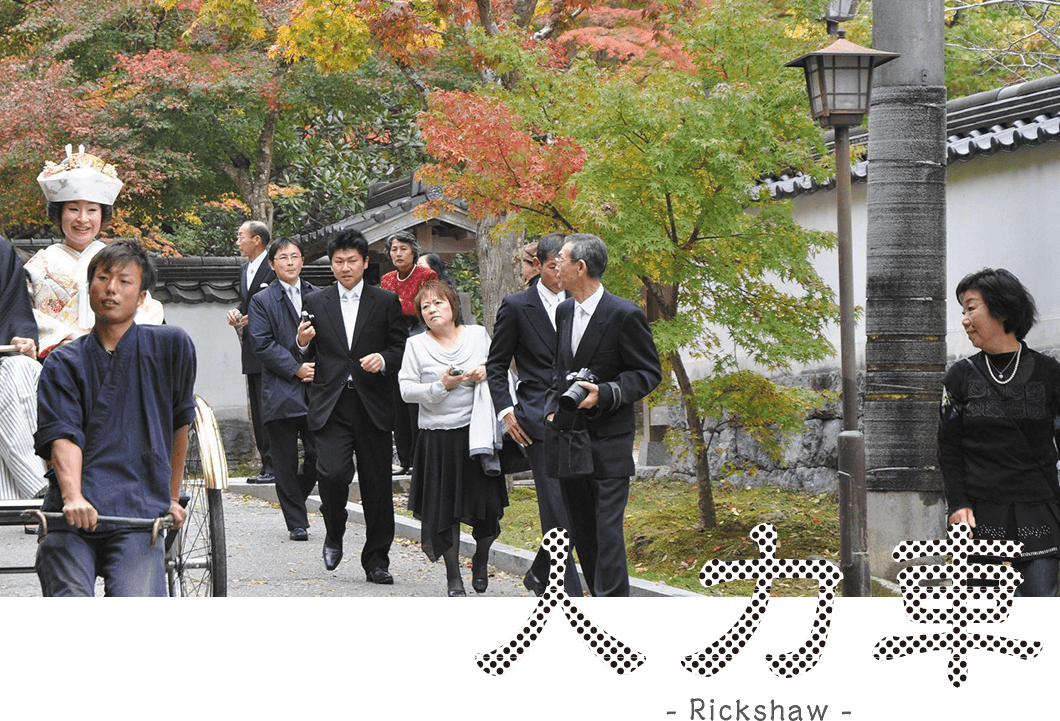 Nowhere else can you
have an experience
like Kintaikyo Bridge Wedding.
After a wedding at a shrine steeped in deep historical traditions,
enjoy a rickshaw ride followed by your wedding procession
around the castle grounds before culminating
in a bridge-crossing ceremony.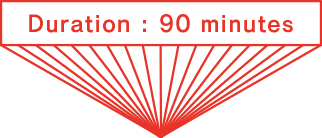 [ Access ]
3 minutes on foot
from Kintaikyo Bridge
By JR

10 minutes by taxi from Shin-Iwakuni Station
on Sanyo Shinkansen Line
13 minutes by taxi from Iwakuni Station on Sanyo Line
By air

15 minutes by taxi from Iwakuni Kintaikyo Airport
By bus

2 minutes on foot from Kintaikyo Bus Center
By car

8 minutes by car from Iwakuni IC on Sanyo Expressway
Googlemap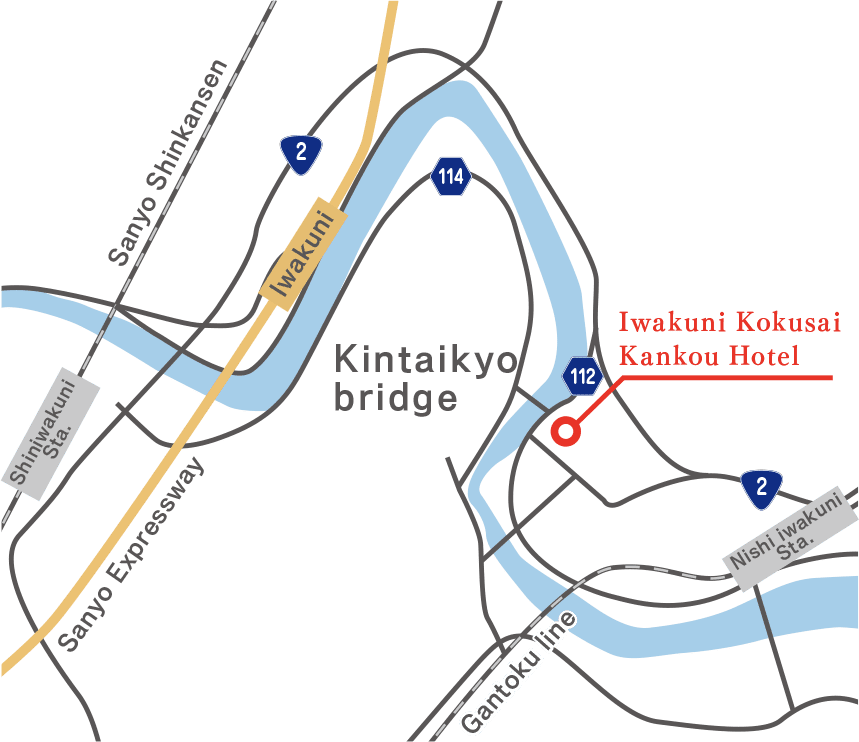 Contact & Inquiries
(Japanese only)
E-mail:bridal@iwakunikankohotel.co.jp